Page 2 sur 2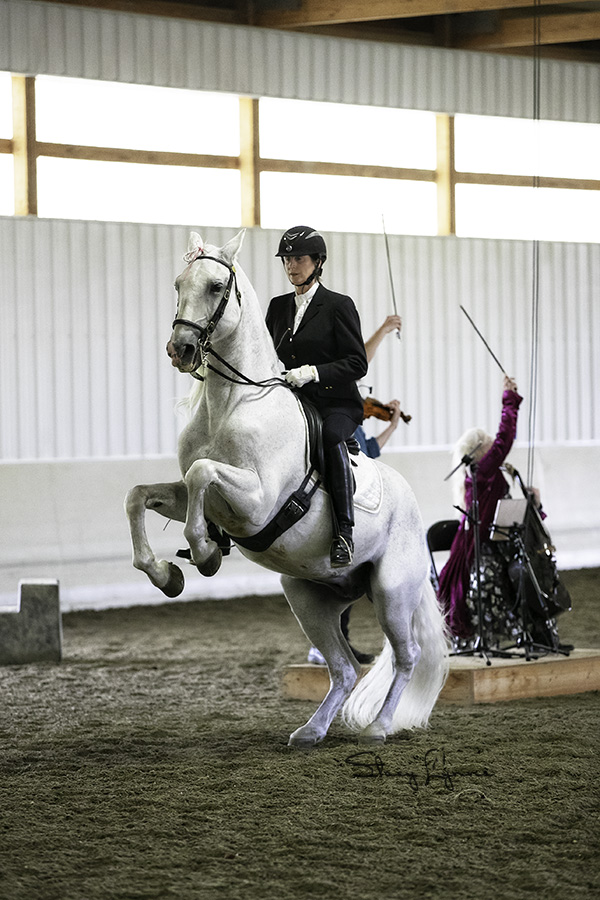 Alchemy, in its most elementary version, is the distillation of ingredients into their purest forms. The addition of energy skins away extraneous layers and impurities, allowing later reactions to produce a more perfect whole. Such was the reaction between the musicians of the string quartet Ethel (Dorothy Lawson-cello, Ralph Farris-viola, Kip Jones-violin, Corin Lee-violin), dressage maître Bettina Drummond, and myself on 17 October. The indoor arena at Andrea Woodner's farm, Rivendell Dressage in Millbrook, New York USA, became a crucible in which horses, instruments, musicians, and riders engaged with each other to form a time-limited art form greater than any of our disciplines or techniques. The audience also played an integral part in this transformation, bringing a rich variety of intellectual predispositions, artistic interests, and a heightened appreciation for the momentariness of this endeavor. While we were gathered to raise funds to support Ethel's ongoing creative work, we hoped to also experiment with exchanges between our art forms. What resulted was, I think, even more interesting: a series of pinball collisions with sound and beat into turns and transitions that shined up the sometimes tired and often staid patterns of dressage into something enticing and new. If Ethel is already an extraordinarily physical quartet, the presence of the horses made them even more so, raising the intensity of their performance and grounding it in a series of hoof and bow exchanges. And if Bettina Drummond is always noted for her technique, she should equally be appreciated for her feel. She rides like a musician, bringing more depth and resonance from her horses than anyone I have encountered.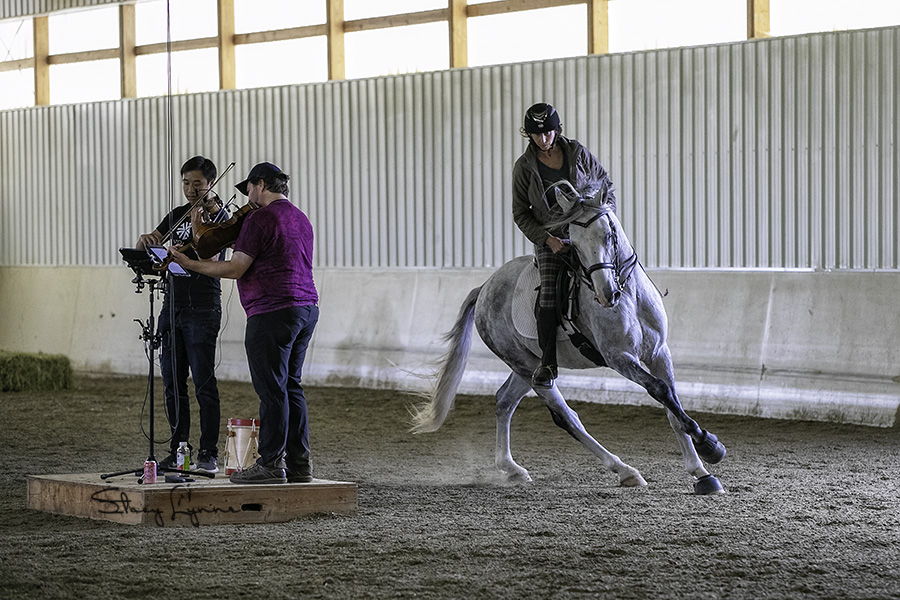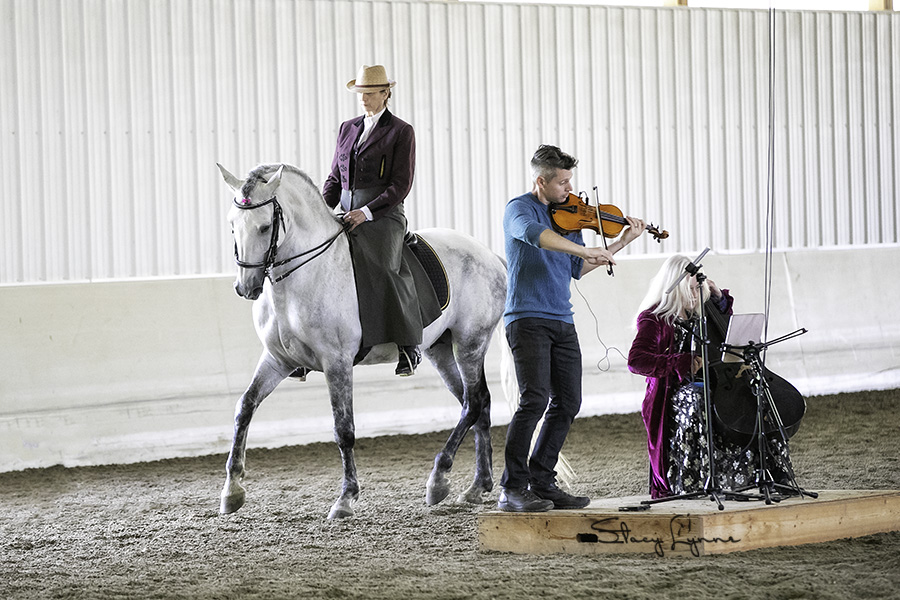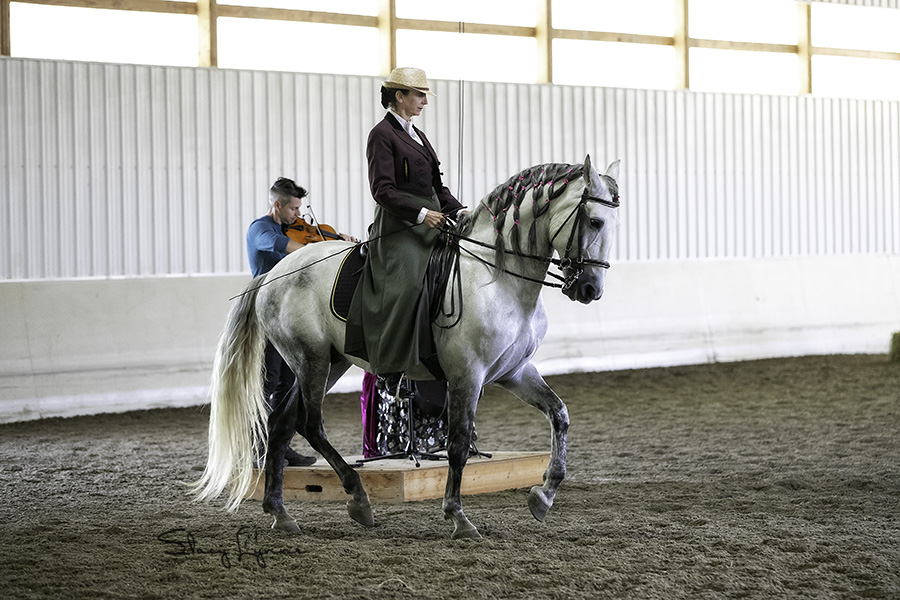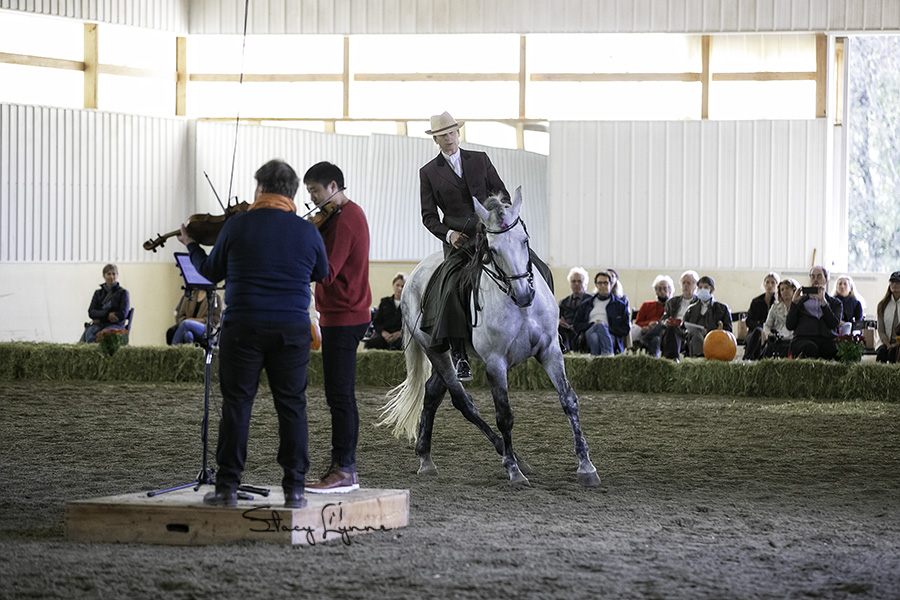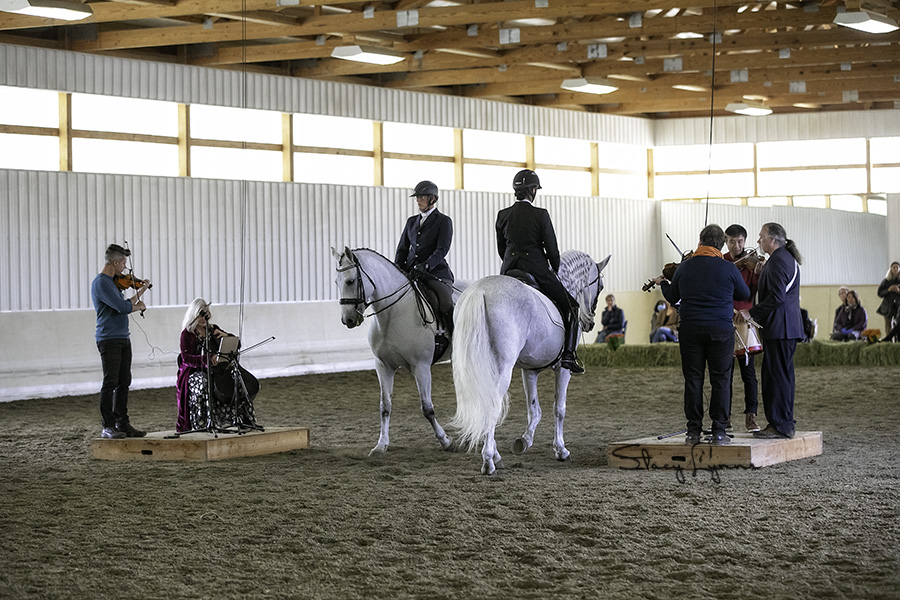 I have written previously of watching Bettina ride that she appears to be timeless, existing as a Platonic form of dressage. This was true again, but her interactions with the quartet added an element of incandescence to her usual grace and technique. Her most established partner, Que Macho HI, anchored her team of elegant Iberians with expressive passage and a remarkable levade between the stages! He served as a wonderful grounding force for my own inexperienced PRE partner, Hortelano LXXV. The highlight of our pas de deux was a series of transitions from passage to trot on a circle around the musicians in which we remained parallel to each other and the beat of the music, which followed a series of elevations and powerful descents. The balance among all the creatures on that circle was a treat to be inside. Hortelano began the weekend fearful of the musicians' movements and the amplified sound and ended it a performer who found a place for himself next to a much more advanced, formidable partner and amidst the beautiful noise. The title of the music to which we rode, "Moment of Truth", was indeed apt.
Bettina's younger partners Islero and Formoso demonstrated the formation of a new cadre of musical horses. Islero slipped around and between the musicians' stages, swimming from viola to violin and diving down to cello as he and Bettina played with the idea of time in relationship to the gorgeous Philip Glass composition from the film, "The Hours". He has the sinewy contained focus of a tiger shark, and Bettina takes full advantage of his bullfight tendencies and leavens it with her own containment to levitate. Formoso's shy sense of humor emerged as he navigated the charming Harry Warren and Johnny Mercer tune, "Oops". This powerful young stallion came to life through his interactions with the music and musicians, emerging through his work almost as if breaking out of a shell. The substance he offers, both in form and content, is indeed beautiful.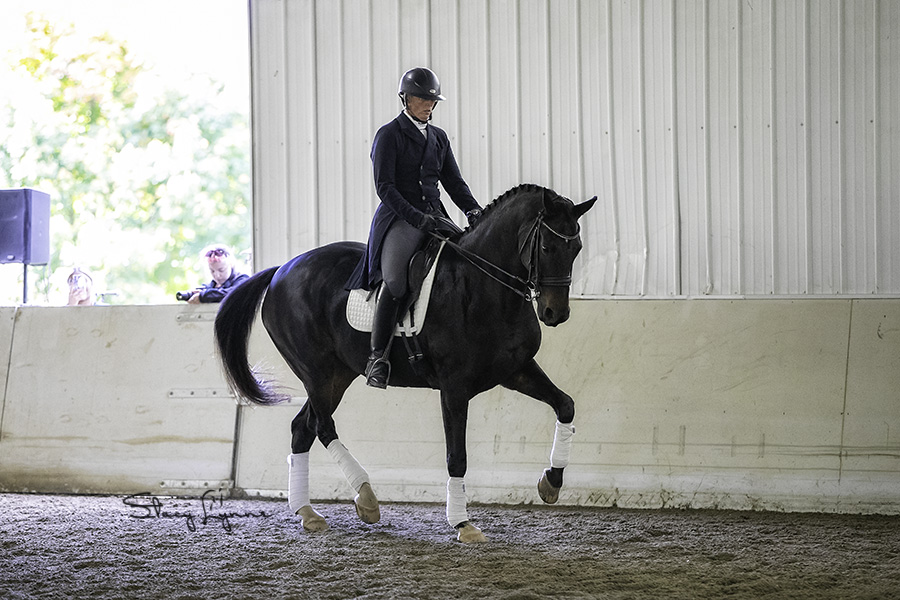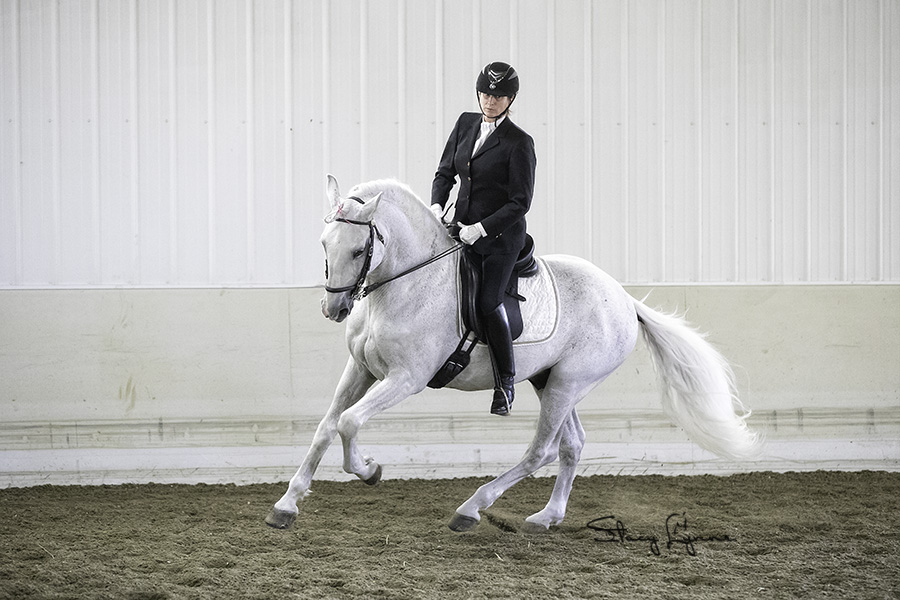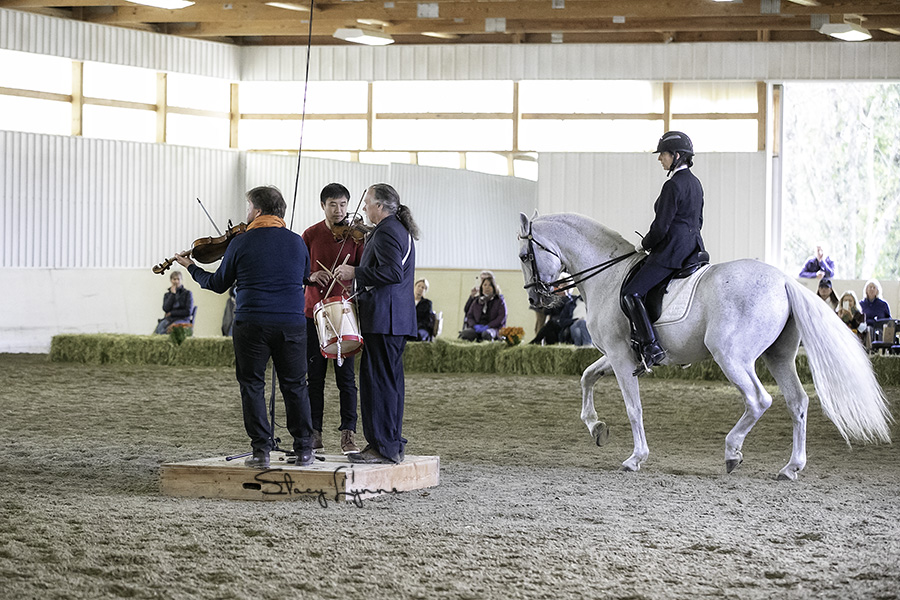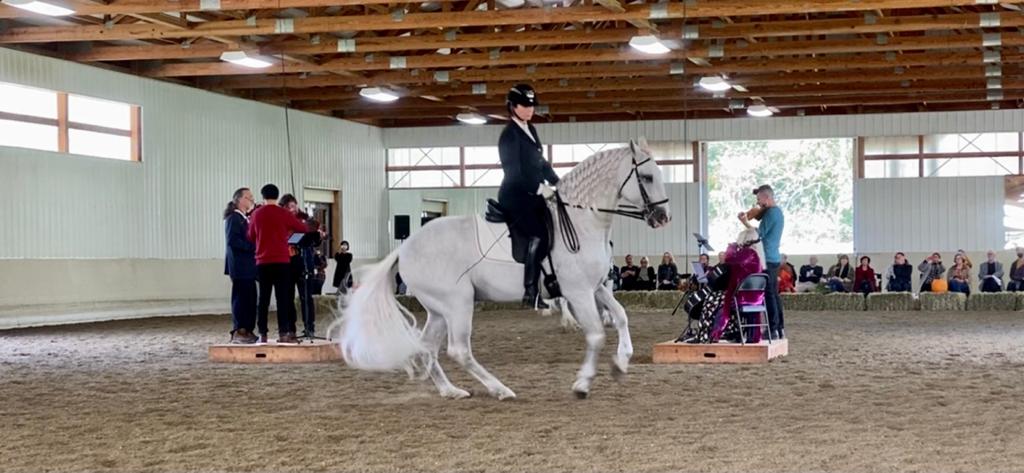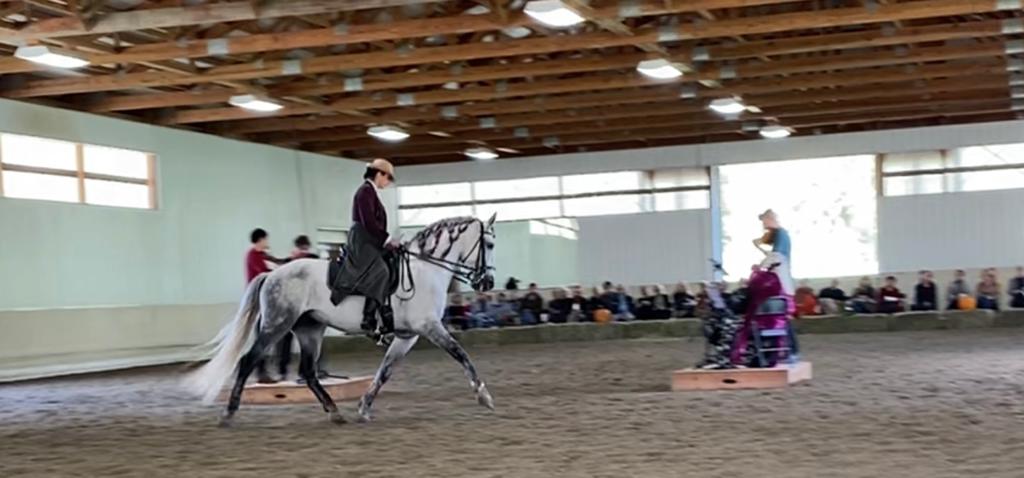 Ethel's music is noteworthy for its power and its emotional resonance. Riding with them is a physical experience; Dorothy Lawson's cello takes over your spinal column and grounds it in her beat. My wonderful partner, the KWPN mare Citha's Utopia, found that takeover both compelling and too directive, cooperating with it to provide form for her extensions and piaffe and using it as a contrapuntal device for the passage. She found the viola in her canter work, winding around with it in pirouette and playing around it in her changes. The violins were often too fast for equine feet, but she is a rhythmic dancer and she nailed them down a few times. The piece to which we rode, "On the Edge", is an Ethel composition about a circus tent catching fire. It well suits Utopia's explosive tendencies. While she overboiled briefly, the performance mostly displayed her ability to remain controlled—inside the edges—something we have long sought. She is an imperious and fiery creature, more dragon than horse, and there were moments in which she flew.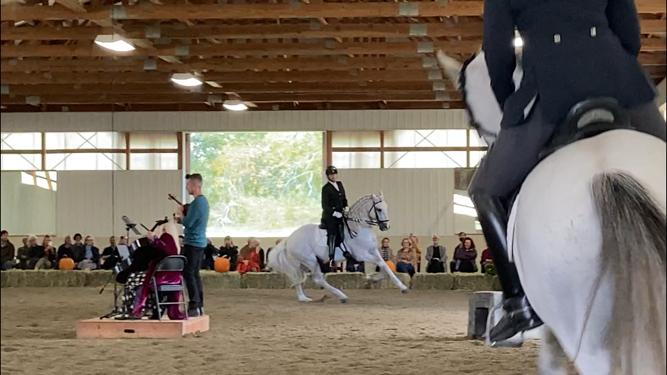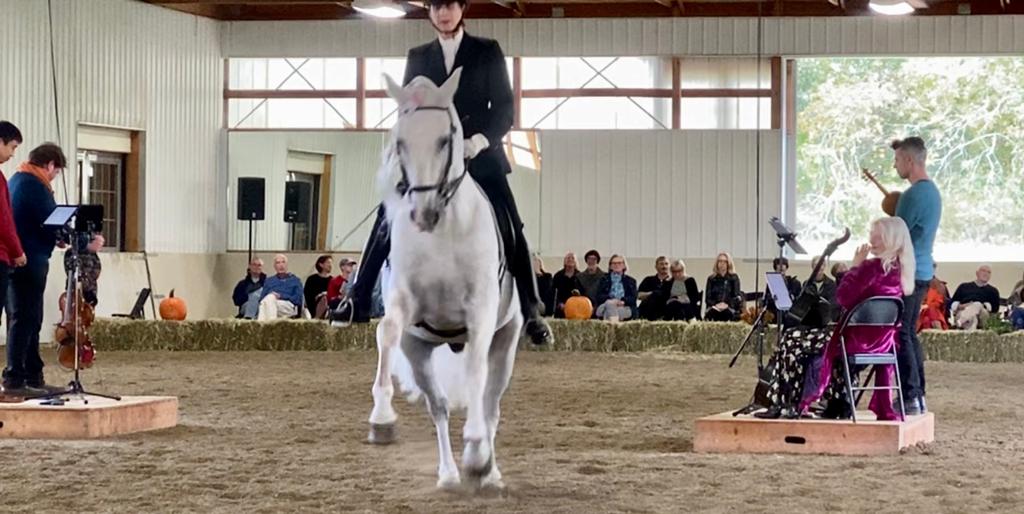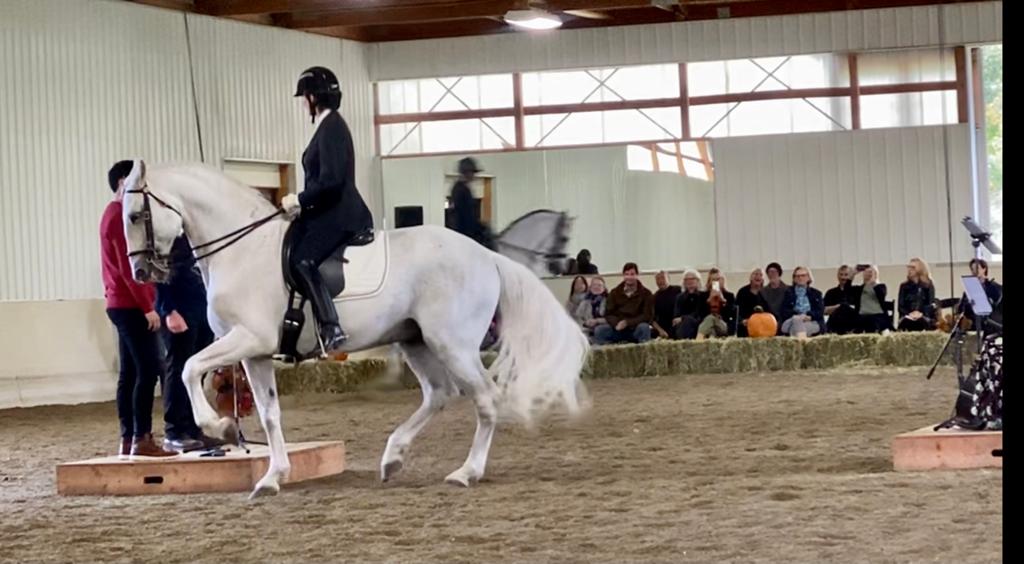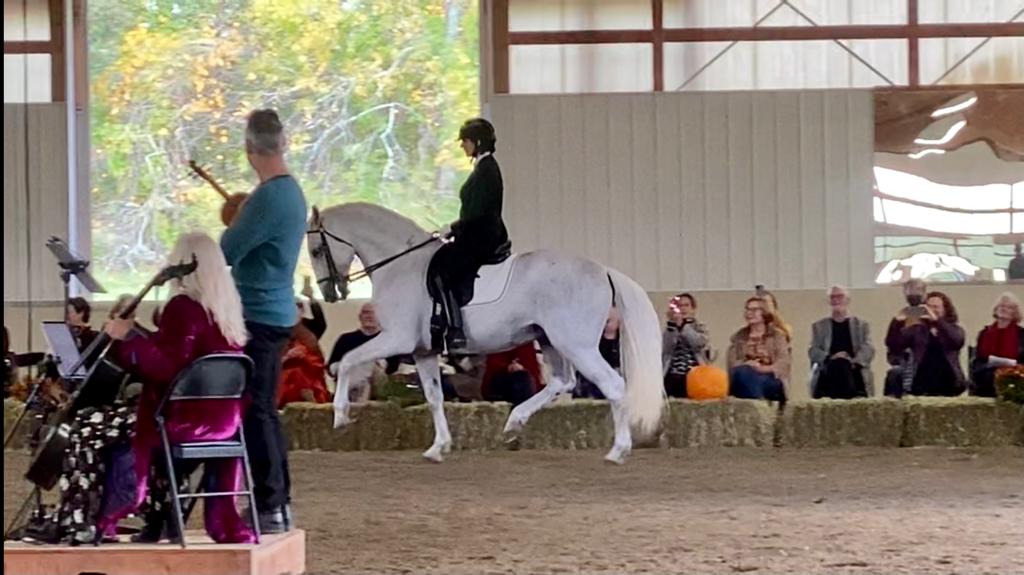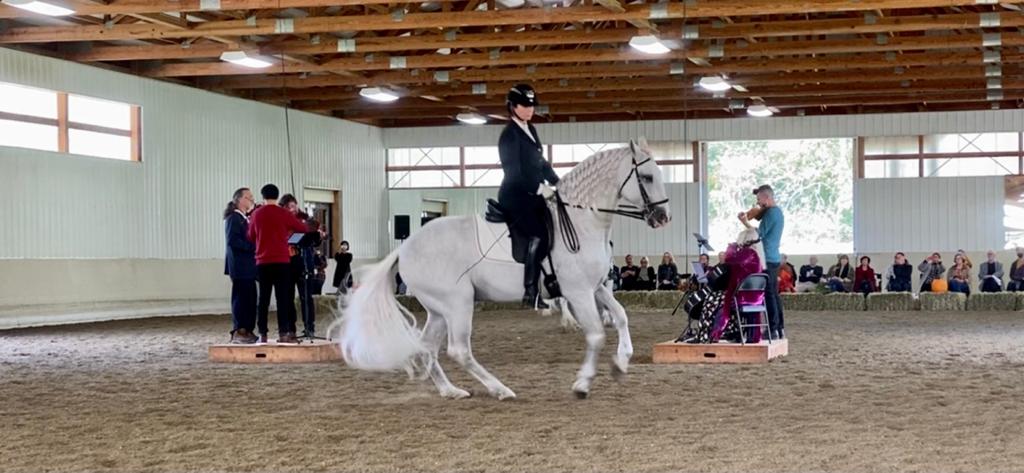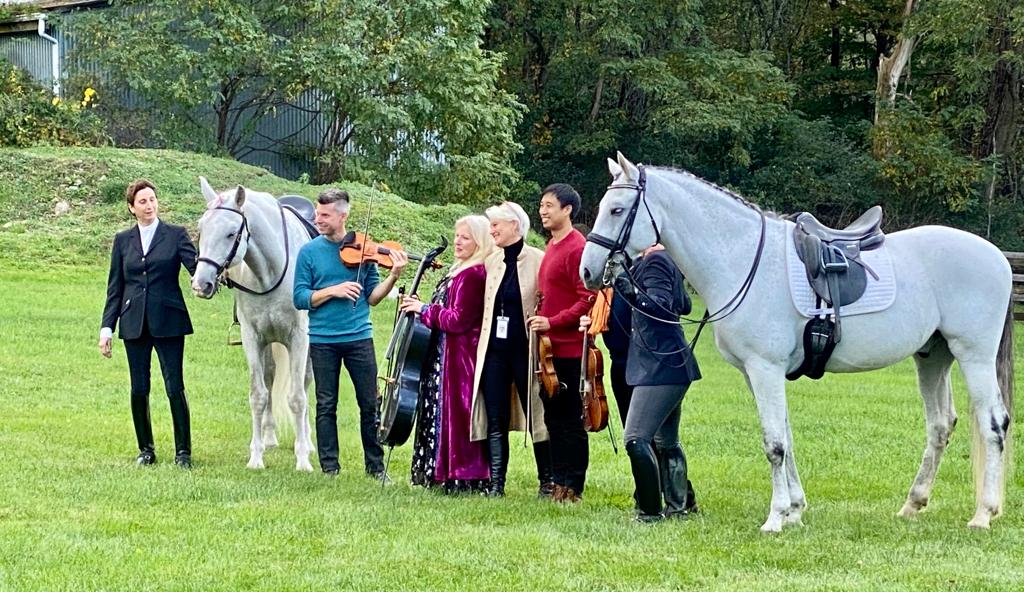 I am so grateful to have been part of this day. The work Bettina and I did preparing for the pas de deux to the recorded version of "Moment of Truth" was interesting and certainly enlightening about matching the rhythm and balance of two different pairs, but the rehearsal and performance were a totally different level of joy. The waterfall feel of the music to which we negotiated our passage-trot circle lent an urgency and power to the work that was missing in our earlier efforts because recordings cannot contain the power and beauty of live music. I wish everyone had the chance to ride with musicians like the geniuses in Ethel. Their passion, artistic genius, and technique elevates ours and allows us—just for that time—to become something greater than the sum of all our parts and more intrinsically human or equine and beautiful.
For more information about Ethel, please visit ethelcentral.org.
For more information about Bettina Drummond, please visit bettinadrummond.com.
For more information about Allison Kavey, please visit rivendelldressage.com.